RFID has broad application prospects in the field of hospitals and healthcare. RFID hospital management system can realize the interaction between patients and medical staff, medical institutions, medical devices, and gradually achieve information and intelligence. Besides, RFID also plays a great role in patient management, access control, hospital linen laundry management, hospital medicine management, etc.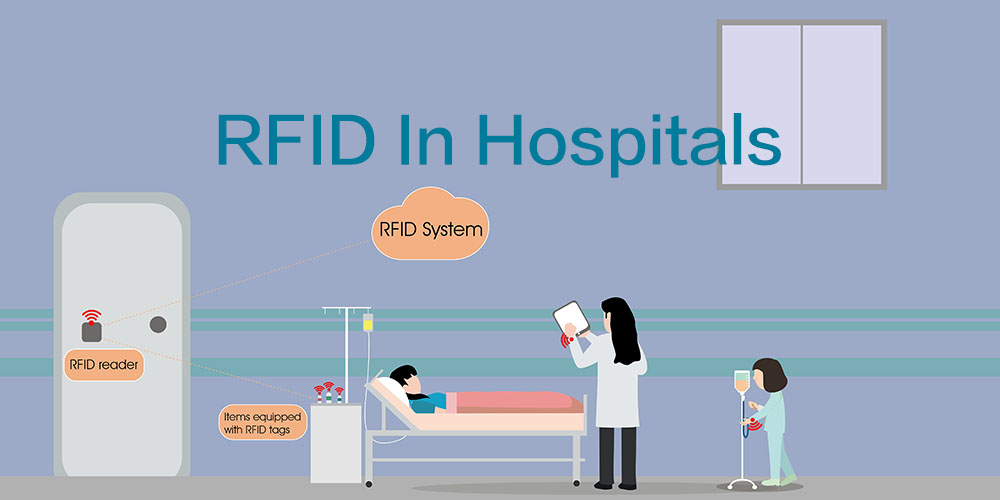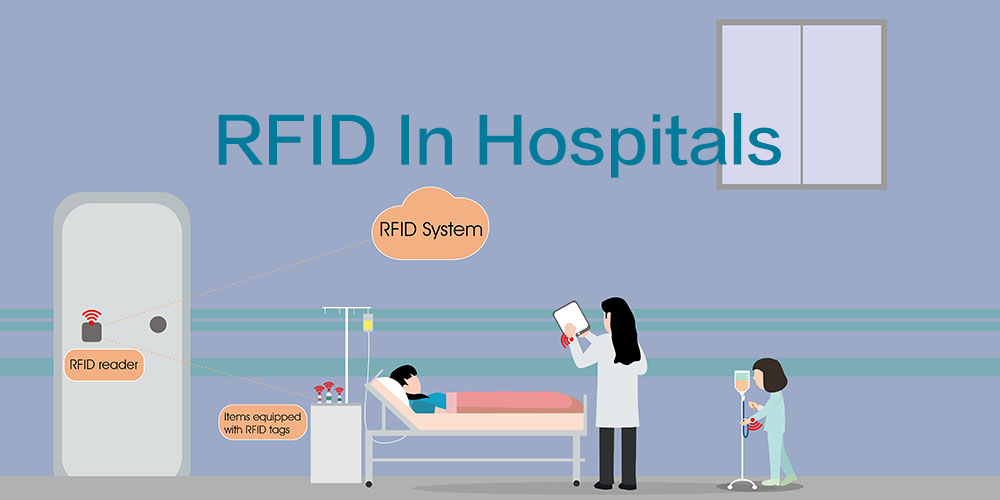 Here are nine common RFID applications in hospital management around the word.
1、RFID for Hospital Patients
In hospitals using the RFID system, patients will be equipped with a bracelet with an RFID tag, which stores basic information such as the patient's name and age, medical history information, test results, medication injection, etc. Each RFID wristband has a unique code that corresponds to the patient. If a doctor or nurse wants to know the information of a patient, he only needs to read the patient's RFID smart wristband through the reader he carries. In case of emergency, RFID technology can help doctors win time for the rescue of patients by providing patient information rapid and timely.
An RFID system in hospitals can also prevent patients from getting lost. Through RFID smart wristbands, RFID readers, and positioning and tracking systems, medical workers can track the physical location of patients and quickly find them and implement appropriate medical programs for them. Thus, it can achieve 24-hour timely monitoring of patients, ensure the safety of patients, reduce the frequency of accidents, and improve the management level of the hospital.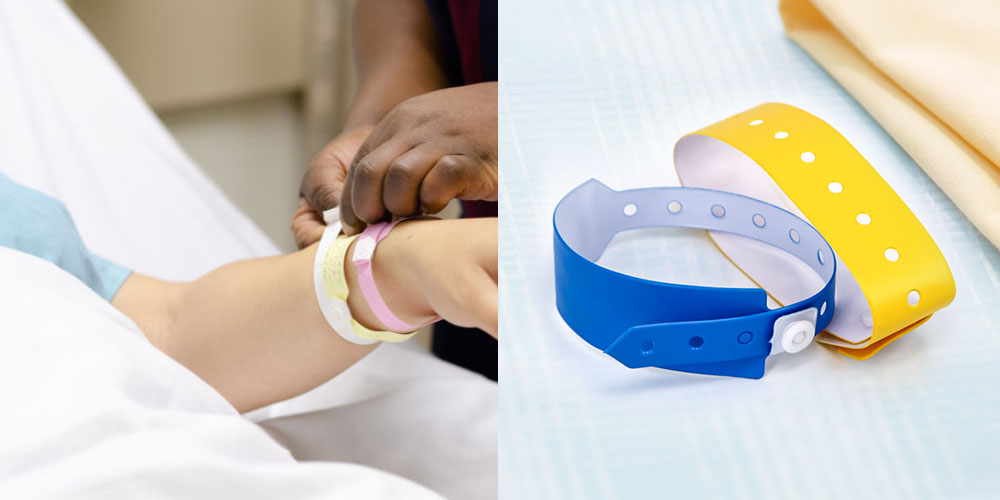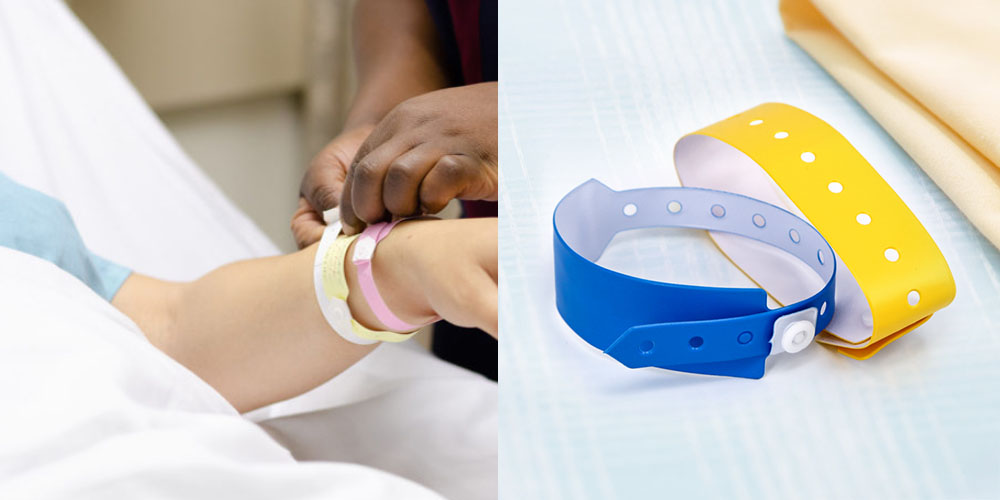 Material: RFID PVC wristbands and RFID paper wristbands are more commonly used in hospitals for patient and infant management
Chip: Most of them are high-frequency chips, such as Ntag213, Ntag215, Ntag 216, etc. And you can choose LF chip or UHF chip according to the applications.
Features: Convenient, easy to use, comfortable, harmless to skin, can be embedded in the various chip, diversity colors and styles can be chosen, etc.
2、Newborn Identification Management
RFID wristband has important applications in obstetrical maternal and infant identification management, infant anti-theft management, and child identity verification. In the obstetrics and gynecology department of the large-scale general hospital or the maternity hospital, a newborn will be equipped with an RFID wristband that can mark the baby's unique identity, and makes the baby's information match with the mother's information. To determine if you are holding the wrong baby, you only need to compare the mother and baby's RFID wristband information, which avoids the occurrence of the wrong baby.
When someone tries to steal a newborn from a hospital ward, the RFID identification device can detect it in real-time and sound an alarm and inform security guards of the latest location of the stolen baby. Besides, if the label is removed from the baby, the device will immediately sound a different alarm indicating the location of the baby.
3、RFID hospital Asset Tracking
Hospital equipment is expensive, and the storage of medical items must be carried out following strict storage standards, which increase the difficulty and complexity of hospital asset management. In hospital asset management, using RFID tags can get twice the result with half the effort, saving time and labor to find equipment as well as improving the hospital's ability to manage assets.
For example, installing active or passive RFID tags on transfusion pumps, hospital beds, stretchers, wheelchairs, and other movable assets, can make the search and check process extremely fast and accurate, over 20 times than traditional methods. Besides, with RFID LED tags, if some items are misplaced, the system can remind the warehouse manager to adjust the storage location through the flashing LED lights.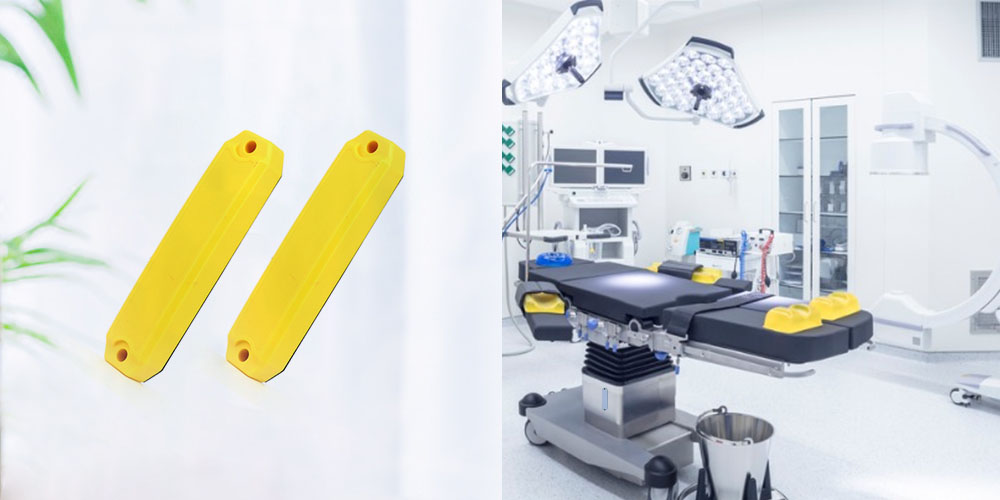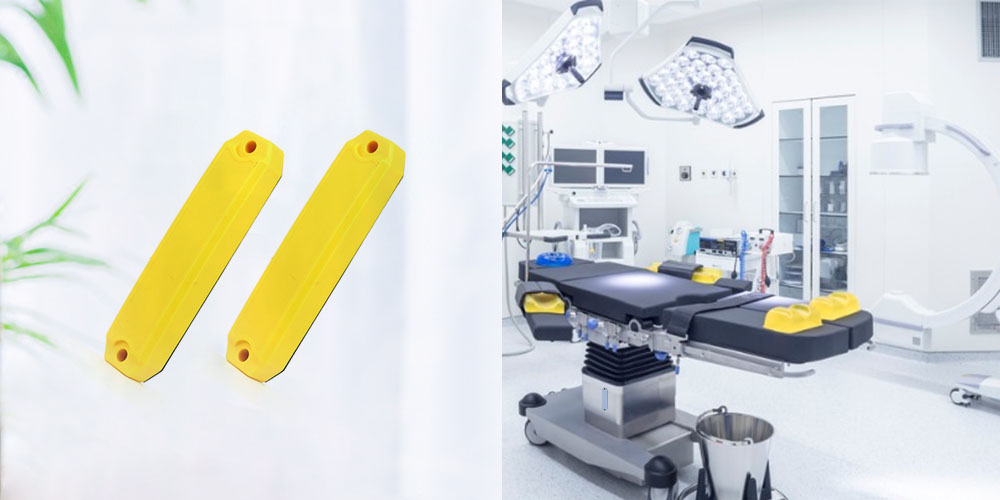 Material: It is made of ABS material, and has a special material that can make it work well on the metal surfaces, very suitable for hospital large equipment management.
Chip: RFID tags used for asset management typically use UHF chips, like Impinj M4QT/R6, etc.
Features: Long read distance (up to 10m), high-temperature resistance, corrosion resistance, waterproof and durable, anti-collision, etc.
3、Security Access Control
RFID access control is another common application in hospitals. For hospitals, security access control is very important that it can restrict access to vital rooms or areas to prevent evildoer from wandering around the hospital.
Staff must tap the RFID card or other type of RFID tag in front of the door reader to gain access. RFID hospital access control can prevent unauthorized personnel from entering the restricted area, and provide security for patients, drugs, and medical equipment to prevent theft or damage. Through the real-time monitoring and tracking of medical devices and patients in the hospital, we can prevent patients from leaving privately, prevent valuable devices from being damaged or stolen, and protect temperature-sensitive drugs and laboratory samples.
5、Surgical Tools Tracking
The traditional management of surgical instruments still depends on manual work, time-consuming, and labor-consuming, and easy to make mistakes. Even using laser coding, it is prone to rust and corrosion caused by blood contamination and repeated disinfection during the operation, resulting in it is not easy to read information. And one-to-one scanning code reading cannot fundamentally improve the efficiency of management.
RFID has a wealth of successful experience in many applications. How to apply RFID in the hospital operating room, and what advantages does it have in the management of surgical instruments? Here are the answers:
Efficient inventory counting and usage time management
Batch reading for quick management
Work well even if covered with blood after surgery
Heat-resistant disinfection
Tracking and ensuring that each surgical instrument has been disinfected and sterilized
Better surgical tools inventory management
6、Hospital Pharmacy Management
The hospital's medicine supply is increasing and changing with each passing day. Traditional drug inventory tracking solutions using manual counting or bar codes take a lot of time. With RFID technology, staff can quickly take the inventory by reading the RFID sticker attached to drug packaging with a handheld reader, which can not only reduce the time spent on counting but also make the data more accurate and reduce human error.
RFID technology can be applied in the storage, use, and inspection of drugs to simplify manual and paper record processing, prevent out of stock and facilitate drug recall, avoid confusion between similar drug name, dose, and dosage form, strengthen drug management and ensure timely supply and preparation of drugs.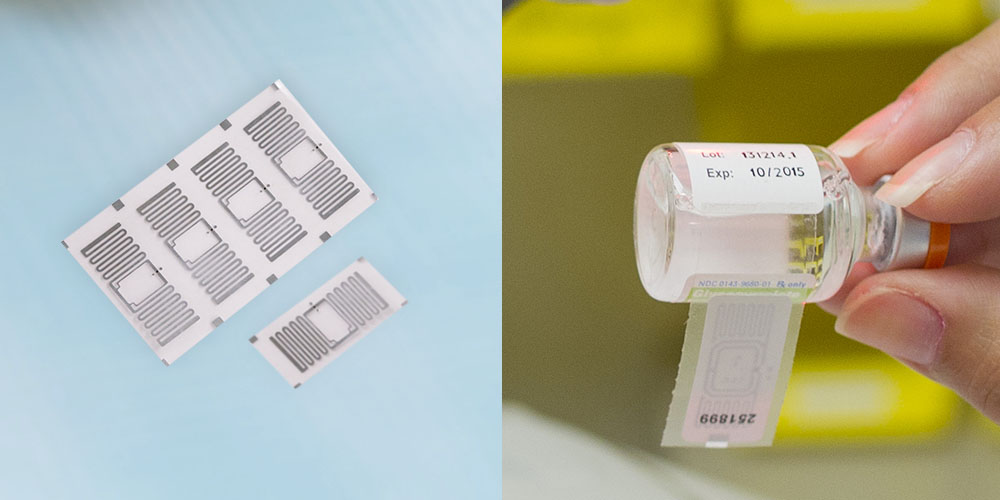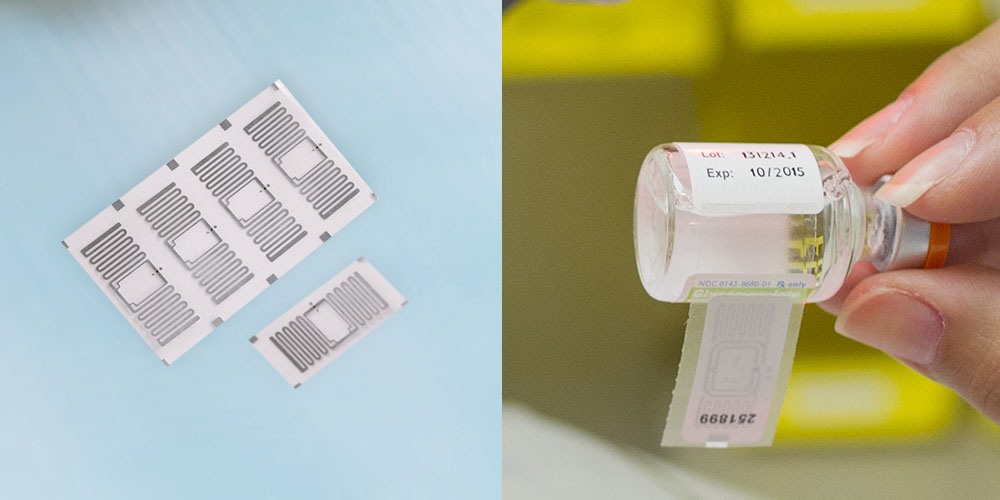 Material: Paper with an adhesive layer that can easily stick to a medicine bottle or box.
Chip: LF chip, HF chip, or UHF chip. ( according to the specific applications)
Features: Convenient, low-cost, printable that you can put any information on it, easy to use, and the size can vary according to the size of the package of medicine, etc.
7、Hospital Registration Management
When patients go to the hospital for examination in CT, MRI, color ultrasound, and other departments, they often have to wait for a long time, especially for multiple items to be examined, and the waiting time is longer. With RFID technology, the hospital outpatient registration system can arrange the examination process of patients more reasonably, make an appointment, shorten the waiting time of patients, and improve the efficiency of hospital service.
At the same time, the RFID outpatient registration system can generate a unique registration number for each patient, which records the patient's complete information, such as name, age, address, contact information, medical history, etc. Besides, it can also automatically calculate the details of the patient registration fee, support refund, change, etc. Seeing a doctor next time, patients can quickly complete registration, payment, and other items through the RFID smart card.
8、Medical Waste Management
Medical waste contains a large number of pathogens, toxic and harmful chemicals, or radioactive pollutants, which make it more difficult to deal with it. The traditional methods are difficult to realize the tracking and real-time monitoring of medical waste. And it is easy to cause the illegal loss of medical waste.
Using RFID technology, you can identify the ward, type, quantity, and weight of each bag of medical waste, and track who, when, and where the medical waste will be transported to the turnover station to avoid cross-infection. At the same time, RFID technology can realize the dynamic management of medical waste, including checking the whole medical waste treatment process, tracking the medical waste of special significance to prevent the loss of the whole bag of medical waste.
It can also purposefully track the weight changes of designated medical waste, spot-check the weighing of medical waste turnover stations to prevent the outflow of sub-packaging, and reduce the disposal cost of medical waste.
9、Hospital Linen and Laundry Management
Hospital linen management is relatively special that all these items must be cleaned and disinfected to ensure that they are sterile when the next patients use it. Besides, there are other problems in the use and management of hospital linen, including data errors in the process of linen distribution, washing and inventory management, tedious handover inventory, loss of unknown reasons, scrapping, etc.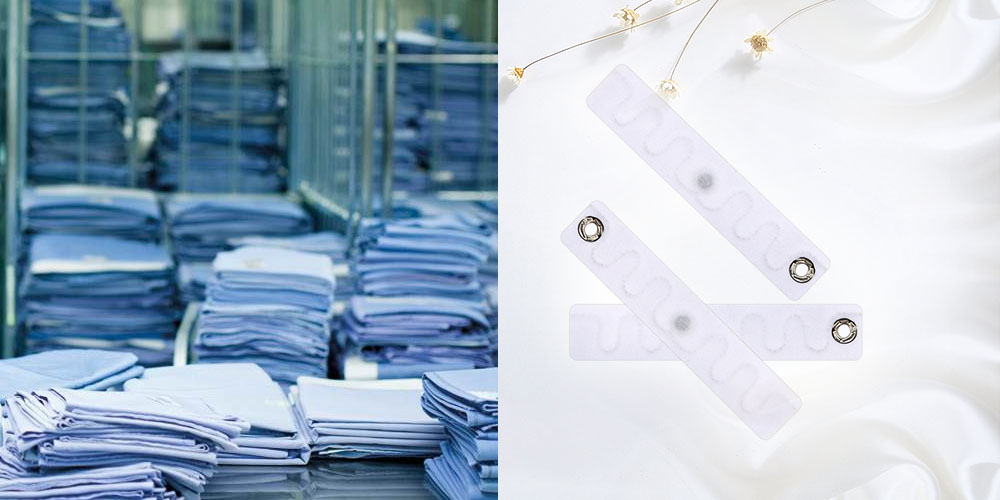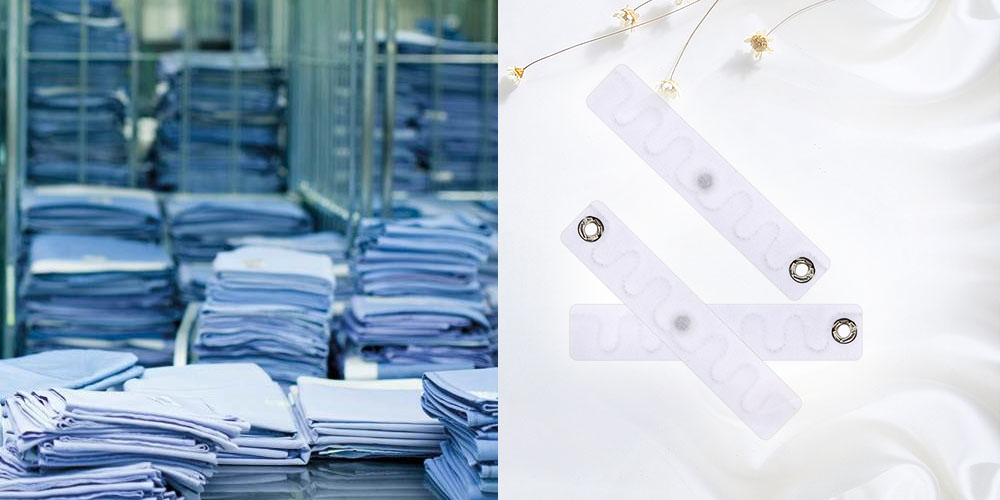 Material: There are three common RFID laundry tags for hospital linen management: RFID PPS laundry tags, RFID Polyester Washable Tags, RFID Silicone laundry tags. They are made of different materials that you can choose.
Chip: LF chip, HF chip, or UHF chip. ( according to the specific applications)
Features: Waterproof, durable, heat resistance, corrosion resistance, chemical resistance, Recyclable for more than 200 times, etc.
RFID system provides a perfect solution for hospital linen management, making the process operation more reasonable and efficient. The system can automatically generate the delivery order when the linen is collected. The handover of linen between the hospital and the washing factory is completed through the RFID system, without manual inventory and staff arrangement. At the same time, the hospital can also get the washing cost, washing times, washing quantity, and other data of the linen washing link in real-time through RFID laundry tags to provide reference data for the linen purchase plan.
If you want to know more about RFID applications, please visit our other related blogs. Also, you are welcome to contact us to learn more about RFID products.
Relevant articles