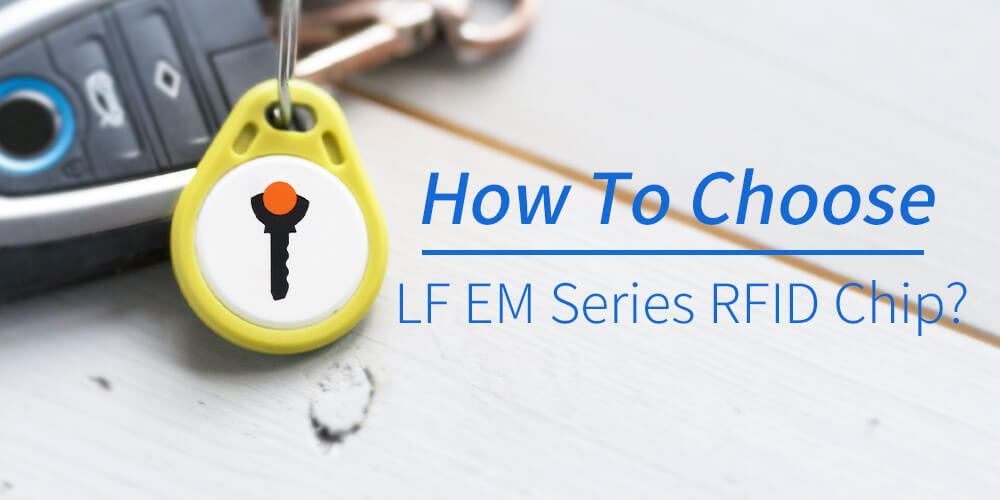 RFID chip technology offers a chance to automate most of your identification processes. Some of the most reliable chips are the LF EM series. They meet the ISO 11784/11785 standards and the ISO FDX/B animal identification standards.
As such, you can invest in the chips if you want to ease your animal identification process. You can also use the technology in access control and other identification needs.
If you're wondering what to consider for when selecting the ideal EM series chip, then this article will guide you through every step. Read on.
A Candid Breakdown of Terms 
You're probably confused by all the tech jargon surrounding the LF EM Series RFID chip technology.
Well, we'll simplify the terms to help you understand how this technology will improve your business. 
Radio-Frequency Identification (RFID)
RFID is a technology that uses radio waves/ electromagnetic fields to track and capture data from RFID tags/chips. 
RFID tags have a radio receiver and a transmitter. When they detect electromagnetic signals from a nearby RFID reader, they transmit digital data. 
There are active and passive tags. The active ones are battery-assisted and can respond to an RFID reader's radio waves far away (up to 100 meters). The passive readers have a limited read range since they lack a battery. 
RFID chips are either passive or active. Passive tags are further classified into low frequency, high frequency, and ultra-high frequency. 
This article will discuss low-frequency tags that cover frequency bands ranging from 30 kHz to 300 kHz. 
Most of the low-frequency RFID chips operate at either 125 kHz or 134 kHz, and each of these frequency bands is compatible with ISO 14223 and ISO/IEC 18000-2.
Introduction to LF EM Series Chips 
EM chip refers to a non-contact RFID tag that uses radio waves to read/write data. It operates at a frequency range of 100 kHz and 150 kHz.
The chips are designed to offer multiple data transmission rates with unmatched efficacy. Even better, the EM series use low power to complete its tasks. 
Additionally, the chips conform to the ISO 11784/11785 standards and the ISO FDX/B animal identification standards. This feature makes the EM series the ideal chip for animal tracking and identification. 
Other unique features of EM series chips include:
32-bit password read and write protection with a unique 32-bit ID code for guaranteed security
10-bit user code
On-chip voltage limiter and rectifier
Wide temperature range (works at -40 to 85 degrees Celsius)
Mask-selectable integrated resonant capacitors (no need for external capacitors)
Additionally, the EM card comes with 512 bits of EEPROM memory. It is subdivided into 16 sectors, each with 32 bits.
Even better, you can use the lock bits to change the data stored in the EEPROM memory to read-only. This feature gives you control over who can access your data.
Types of LF EM Series RFID Chips
1.EM4100 Chip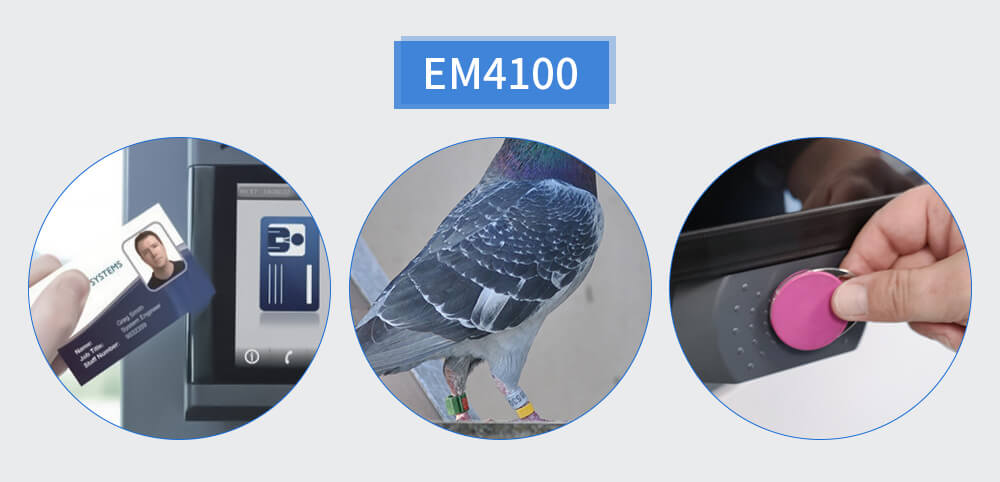 This 64-bit low frequency contactless device uses an improved chip packaging process to offer flawless read-only functionality. 
The technology is ideal for use with identification cards. Other areas that apply the EM4100 chips include:
Attendance system
Property identification
Access control system
Also, the chips offer customizable cards ideal for use in different environments. You can also use the cards for preferential printing services.
2.EM4200 Chip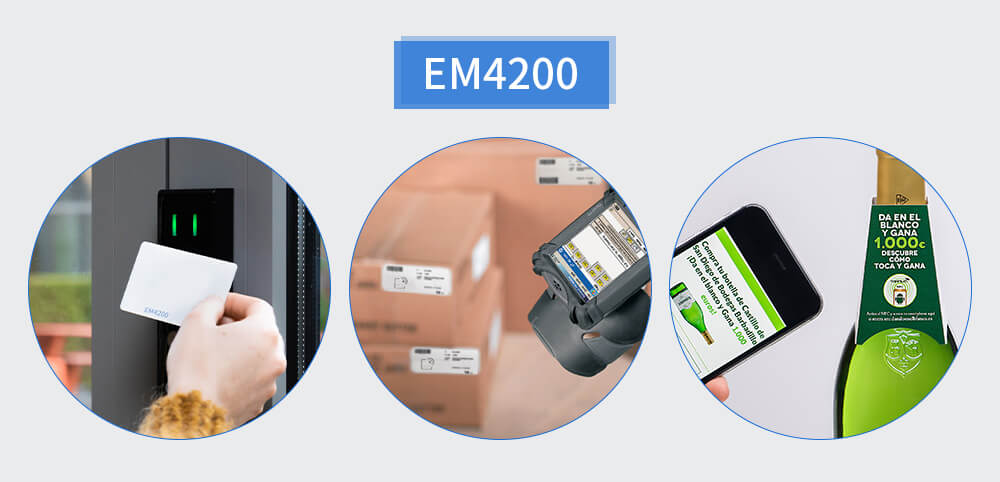 If you're looking for a read-only chip for identification and access control, then you should consider the EM4200 chip. This LF contactless identification device is an improvement of the EM4005/4105 and EM4100/4102 chip series. 
Unlike the previous versions, the EM4200 offers a higher reading range, thus increasing its applicability scope. It also has a relatively larger coil terminals resonant capacitor (ranging from 120pF to 250pF).
The increased coil size ensures that the EM4200 chip has a better read range than its predecessor. Its circuit obtains power from an external coil placed in a strong electromagnetic field.
When you turn on/off the modulation current, the EM4200 chip sends the unique code that's contained in a laser ROM. It offers ROM in different sizes, including 128, 96, and 64 bits.
The 128-bit chip has a CMOS integrated circuit. As such, the device can only be used in electronic Read Only RFID transponders. 
Where You Can Use the EM4200 Chip
This chip is ISO11785 (FDX-B) certified. This accreditation makes it the leading chip for use with animal identification. Additionally, it meets the BDE waste management standard.
Other uses for the EM4200 chips are:
Access control 
Anti-counterfeit industry
Logistics automation
Industrial transponder
This chip offers the best customizable access control.
3.EM4205/4305 Chip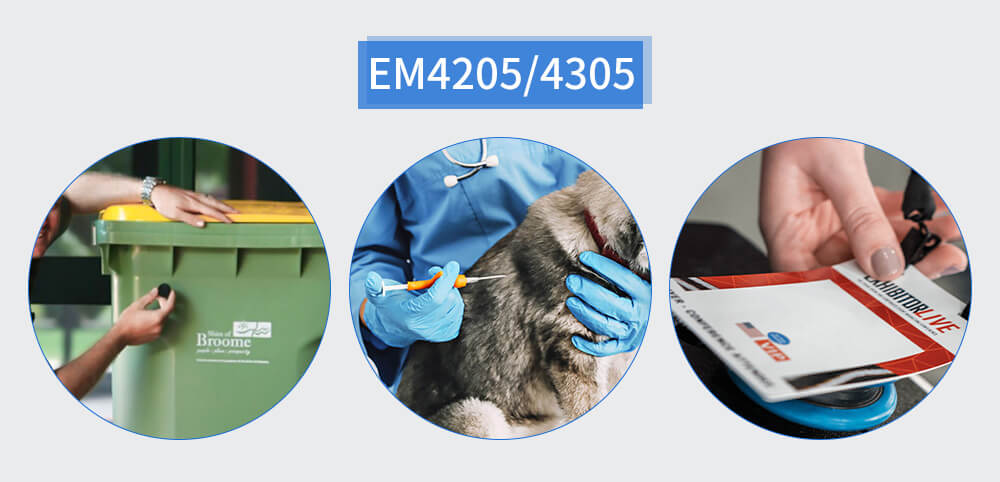 Unlike the EM4200, the EM4205/4305 chip has a read/write capability. The 512 bit LF contactless identification chip has an IC communication protocol that can work well with the EM4469/4569 chip series. 
Additionally, the chip's CMOS integrated circuit has sophisticated transponders with the unique ability to read and write codes. This feature increases the chips' applicability significantly.
One of its common applications is animal tagging. It offers an excellent and low-cost way of tracking livestock and managing the inventories.  
While the EM4205 and 4305 chips have tremendous similarities, a few differences between them exist. They include:
EM4305 chips have larger pads to accommodate its two coils inputs. This feature enables the EM4305 transponder to connect directly to the antenna, thus eliminating any module's need.
Unlike the EM 4205, the EM4305 offers a more powerful 330pF resonant capacitor.
The IC obtains energy from a 125 kHz continuous magnetic field generated by an external coil (together with a resonant circuit and an integrated capacitor).
How EM4205/4305 Chip Works 
The chip has an internal EEPROM that stores data. It extracts the data from its memory and sends it by switching on/off a resistive load parallel to the coin. To achieve the trasmission, this chip uses a large modulation index that allows 100% execution of all commands within the 125 kHz magnetic field. 
This chip series also supports Manchester and the bi-phase data encodings. The IC has a 32-bit unique identifier number (IUD) for guaranteed security of the stored data. 
Where to Use EM4205/4305 Chip
Ideal for animal identification following ISO FDX-B guidelines 
Waste management standard BDE 
Industrial transponder 
Access control
4.EM4095 Chip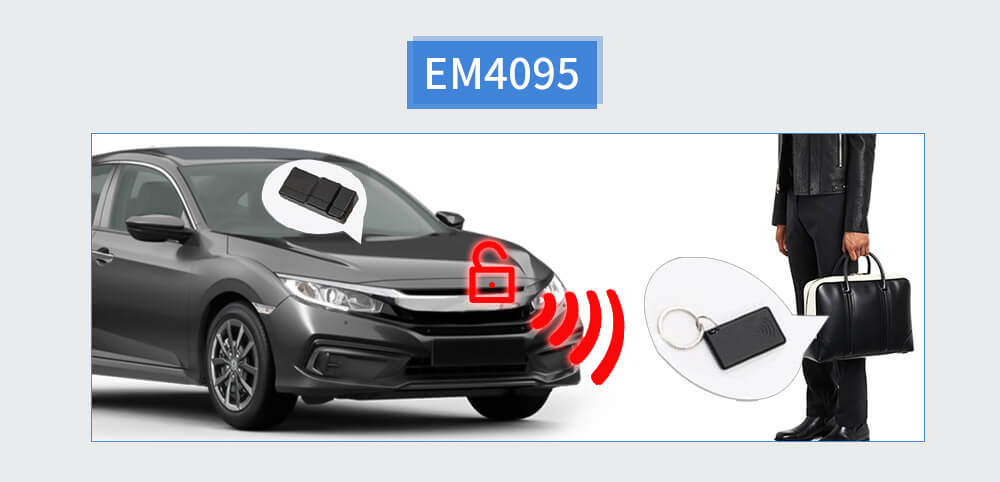 This chip was previously known as P4095. It has a read/write ability and works best with 125-134 kHz frequency. 
It has a CMOS integrated transceiver circuit that ensures that the chip performs its functions at the RFID base station without fail. 
Some of the transceiver's functions include
AM modulation to guarantee the efficacy of the writable transponder 
Ensure optimum antenna functionality within the required carrier frequency
AM demodulation of the signals induced by the transponder to enable communication with a microprocessor on a simple interface 
The technology is used in various sectors that require low-cost readers, including handheld readers and car immobilizers. 
5.EM4097 Chip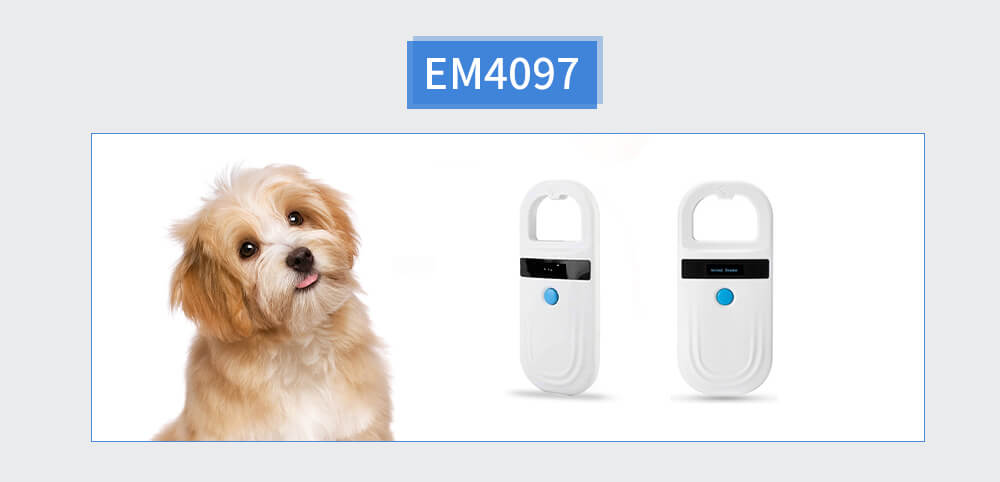 This chip was previously known as P4097, and it uses a CMOS integrated transceiver circuit. It is designed for use in RFID base stations to undertake the following functions:
Initiate transfer of energy to the transponder via antenna driving
Enable data to get to the writable transponder through amplitude modulation of the field. It has an OOK modulation ratio that uses on/off key to achieve the best data transfer.
Phase demodulation to allow data sending from a transponder by amplitude. It also offers an interface to exchange data with a microprocessor.
 Also, this chip has read and write analog with a friendly interface. It is designed for usage with a frequency of 125-134 kHz and ultra-low power.
The technology is applied in animal ID readers and handheld LF readers. 
6.EM4450 Chip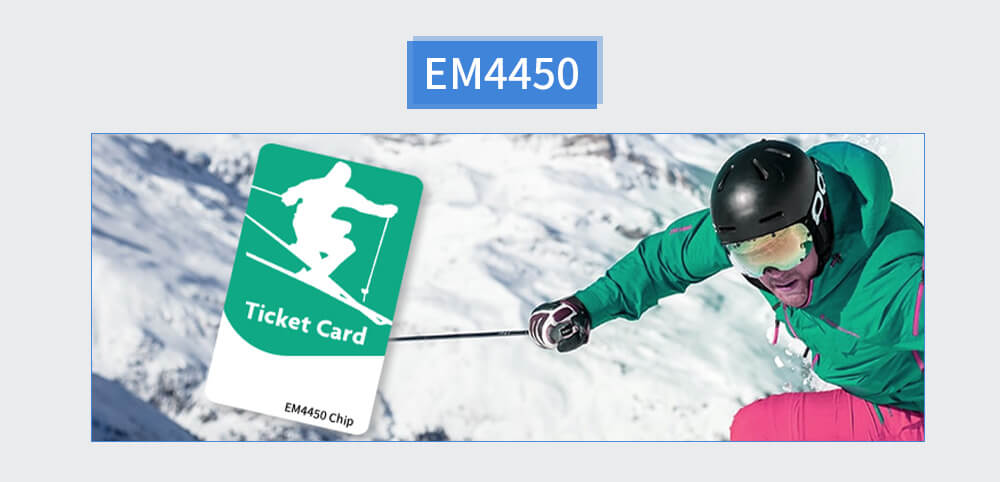 This is a 1kbit LF contactless device with the following features:
CMOS integrated circuit with write/read transponders 
Ability to switch off/on the read section of the EEPROM data
32-bit password for all protected operations
It sends data to the transceiver by adjusting the amplitude of the prevailing electromagnetic field. 
EM4450 Chip is applied in ticketing, high-security access control, automotive immobilizer, prepayment devices, and manufacturing automation. 
LF EM Series RFID Chips Types – What are the Differences?
The LF EM series chips have a lot of similarities. Their working rationale is the same since they all use CMOS integrated circuit with write/read transponders.
However, the newer versions of these chips integrates more security features. For example, the EM4450 and EM4097 Chips allow the users to limit the reading/writing ability using strong passwords.
Additionally, the chips vary in size and shape. This diversity gives you the chance to choose a chip that meets all your preferences.
Low-frequency EM Series RFID chips were designed to offer precise identification features. It has approval from ISO 11784/11785 standards and the ISO FDX/B. The certification makes it ideal for animal tracking as well as access control in high-risk areas. 
While the EM series chips are almost similar, there exist a few differences among them. If you're not knowledgeable about RFID, then these differences will confuse you when you go shopping.
Nevertheless, this article will help you to make an informed purchasing decision. We've highlighted the features of all the EM series chips. This way, you can be sure that you'll only buy the chip that serves you the best!