NFC Single layer PVC wristband manufacturer
This NFC wristband is made of multi-layer PVC materials and embedded with the NFC chip. Although like RFID paper wristbands, NFC PVC wristbands are RFID disposable wristbands, they are more waterproof and durable than RFID paper wristbands.
DESCRIPTION
NFC wristbands were born with the development of NFC technology. Nowadays they have become a very popular and useful tool, transporting us to the smart world. They are not just a wristband, the NFC chip in them makes them powerful and multifunctional. And they can be embedded in various NFC chips, the Ntag213 is the hot one, which has a better RF and safety performance. And they can be made with various materials, the PVC is the most cost-effective one, which is waterproof and durable. So Ntag213 PVC wristband is a perfect NFC solution.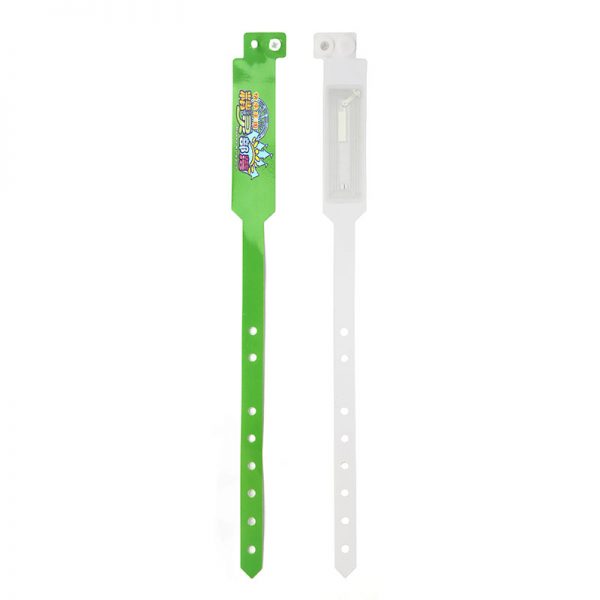 FEATURES
Water resistance and durable
Highly cost-effective
Diversity color & styles, and support customization
Better RF and safety performance, good compatibility
Operating frequency of 13.56MHz
Total memory: 180 bytes; User memory: 144 bytes
Data retention up to 10 years
Multi-function: access control, intelligent identification, cashless payments, and social media integration
PVC WRISTBAND MODELS
Here are some classic Ntag213 PVC wristband models as follows. Besides, you can tell us what kind of NFC PVC wristband you need, and we will customize it for you.
| | | |
| --- | --- | --- |
| Style | Size | Available Chip |
| | 170*25mm | Ntag213, Ntag215, Ntag216,etc. |
| | 208*25mm | Ntag213, Ntag215, Ntag216,etc. |
| | 250*31mm | Ntag213, Ntag215, Ntag216,etc. |
| | 252*40mm | Ntag213, Ntag215, Ntag216,etc. |
| | 290*28mm | Ntag213, Ntag215, Ntag216,etc. |
Parameters
| | |
| --- | --- |
| Item | NFC Single layer PVC wristband |
| Material | PVC |
| Chip | NTAG213,MIfare S50,Mifare ultralight etc. |
| Frequency | 13.56MHz |
| Protocol | ISO14443A,ISO15693 |
| Color | Customizable |
| Size | 25*170cm, 25*208mm, 250*28mm, 250*31mm, 252*40mm, etc. |
| Memory | 144 bytes |
| Reading distance | 0-10cm |
| Write Endurance | 100000 times |
| Working Temperature | -25°C to 65°C |
| Data Retention Time | 10 years |
| Samples | Free samples are available upon request |